Lee Chapel Pool, The Knares, Basildon, SS16 5RU
Swim Times:
Monday – Friday:       From 3.30 pm   
Saturday & Sunday:  From 9.00 am
All lessons are 30 minutes in duration w

ith between 4 – 6 swimmers in each class.
Our Admin Office Hours are Monday – Friday 10.00am – 2.00pm we are teaching at all other times 
Call to Book: 07930 139 634
This is our main private exclusive pool location.  Our beautiful  25m x 10m pool with depth of 0.9m – 1.5m for deep water practice. 
We offer classes for all ages and abilities.  

For our beginner swimmers an adult is required in the water to support their own child until they have mastered their face & eyes in, breath control and can float unaided.  By having this  "one to one" parent support,  it means they receive 100 percent practice time  during their 30 minute lesson.  More practice means faster progress.
We do not use arm bands of discs during our lessons.  Children need to learn and feel their own buoyancy in the water. 
It is best to learn to swim
without

goggles.  Please do not bring them to class for your beginner swimmers.
Once "eyes in"  has been mastered we do allow goggles to be worn but during every class ALL children will be asked to remove them to reinforce that they "can do it" without them.  We won't be wearing goggles if we unexpectedly fall in!
Our Teachers instruct all lessons from the poolside to ensure they have an overview of the whole class, this also ensures that the correct practice is being performed safely at all times. 
We follow the learn to swim principles of water familiarisation, breath control, submersion (never forced), eyes in, floating, propulsion and breathing. 
Water safety underpins all of our learn to swim principles. 
A child's readiness will determine the introduction of the next progressive teaching skill.
Beginner swimmers cannot progress if they are wearing arm discs or are using a noodle to lean on for the whole lesson.  They need to master their independent floating skills, which is the key to learning to swim properly.
We offer classes for all ages and abilities.  Beginners, Intermediate and Advanced swimmers.
This type of protective Swim Nappy 

must be used

during classes www.splashabout.com.   See Swim Nappy information under our Information tab.
---
September – December 2022
Monday 5th September – Sunday 18th December 2022 
Monday – Sunday:  £131.00 including award
24th – 30th October (Half Term – CLOSED)
Priority booking for current swimmers for the next course starting in January 2023 will end on  Tuesday 1st November 2022  (fees to be added & confirmed during August 2022).
---
January – April 2023
Monday 9th January – Sunday 2nd April 2022 
Monday – Sunday:  £109.50 including award
13th – 19th February (Half Term – CLOSED)
Priority booking for current swimmers for the next course starting in April 2023 will end on  
Monday 20th February 2022.
---
Swim Course dates highlighted in yellow. 
↓ September 2022 onwards ↓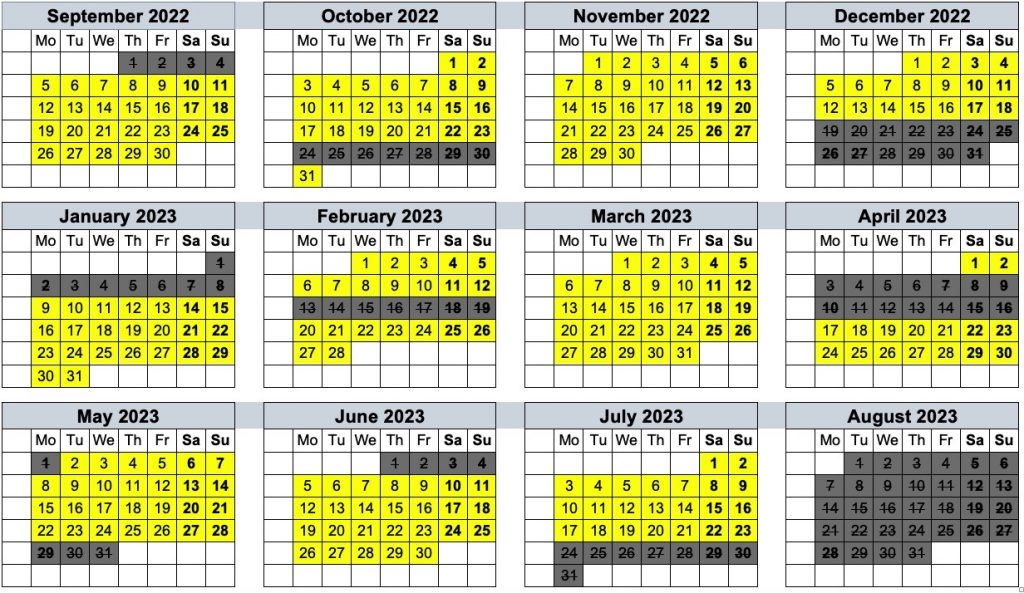 ---
Account Details:
Sort Code:  30-10-75   Account:  00021133
All costs include £5.00  for official Swim England badge and certificate at end of term.
Our Admin Office Hours are Monday – Friday 10.00am – 2.00pm we are teaching at all other times 
Call to Book:

 07930 139 634