Our Parent and Child classes are held at our Lee Chapel Pool location in Basildon and are designed for swimmers who are age two plus, where the emphasis will be to teach the children directly with parent support in the water, these classes naturally follow on from our Parent and Baby classes.  
For all beginner swimmers an adult is required in the water to support their own child until they have mastered their breath control and can float unaided. By having this  "one to one" parent support,  it means they receive 100 percent practice time  during their 30 minute lesson.  More practice means faster progress.
Our Teachers instruct all lessons from the poolside to ensure they have an overview of the whole class, this also ensures that the correct practice is being performed safely at all times.
We follow the learn to swim principles of water familiarisation, breath control, submersion (never forced), floating, gliding, propulsion and breathing.
Water safety should underpin all the learn to swim principles.
A child's readiness will determine the introduction of the next progressive teaching skill.
We have one parent only accompanying each swimmer

, this ensures that we do not end up with more adults than children in the classes each week!    You can of course alternate each week so that both parents have the opportunity to enjoy the classes.
We have a maximum of only

Eight

"pairs" booked into these classes,  to ensure that there are enough children & parents attending each week to give the class group a fun & enjoyable swimming experience, but still keeping the group size small enough  to ensure that we deliver first class lessons in a safe, calm and relaxed learning environment.
Many children go through a phase where they may be clingy or nervous at this age.  Some children who were really confident as babies & toddlers go through phases of fear as they develop and this is very normal.  Close contact, lots of reassurance, patience  and praise during class is all that is needed to help overcome any newly developed fears.
You are able to join at any time during a course if space is available and pay only for the remaining classes from that point.
This type of protective Swim Nappy 

must be used

during classes www.splashabout.com.   See Swim Nappy information under our Information tab.
---
April – July 2023
Monday 17th April – Sunday 23rd July 2023 
Monday – £109.50 including award
Tuesday – Sunday:  £128.50 including award
Dates Closed:
Monday 1st May & 8th May (Bank Holidays)
29th May – 4th June (Half Term)
Priority booking for current swimmers for the next course starting in April 2023 will end on
Monday 19th June 2023.
---
Swim Course dates highlighted in yellow.
↓ September 2022 onwards ↓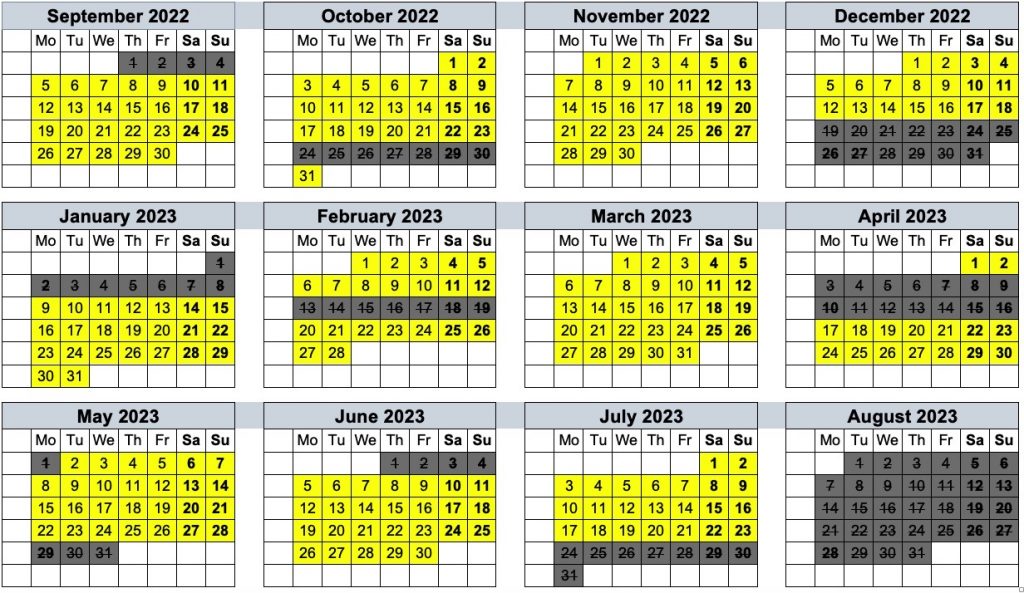 ---
Account Details:
Sort Code:  30-10-75   Account:  00021133
Call to Book:

 07930 139 634