Our aim is to give every child the opportunity to enjoy their water experience, in a non-judgmental pool environment, where they can learn, explore and have fun.
Our SEN Parent Support classes are offered during quieter pool times and are for children from age three plus who need the additional support of their parent in the water to help to keep them safe in and around poolside.
We have a fantastic team of  experienced Swim Teachers, who have under taken additional  training courses in the form of  Swim Courses,  In-house SEN Awareness Workshops and ongoing online CPD's to help with awareness in the area.
Classes will include  teacher led group activities as well as freedom to practice water skills independently with parent as needed. 
Please call us to discuss your swimmer and for us to tell you more about our classes.
We have a maximum of only 

eight

 "pairs" booked into these classes,  to ensure that there are enough children & parents attending each week to give the class group a fun & enjoyable swimming experience, but still keeping the group size small enough  to ensure that we deliver first class lessons in a safe, calm and relaxed learning environment.
Swim Nappy:  This type of protective Swim Nappy 

must be used

during classes www.splashabout.com.   See Swim Nappy information under our Information tab. 
Please see the www.splashabout.com website for sizes available, which includes products for babies, older children and adults. 
---
September – December 2022
Monday 5th September – Sunday 18th December 2022
Wednesday:  £131.00 including award
24th – 30th October (Half Term – CLOSED)
Priority booking for current swimmers for the next course starting in January 2023 will end on  
Tuesday 1st November 2022.
---
January – April 2023
Monday 9th January – Sunday 2nd April 2022 
Monday – Sunday:  £109.50 including award
13th – 19th February (Half Term – CLOSED)
Priority booking for current swimmers for the next course starting in April 2023 will end on  
Monday 20th February 2022.
---
Swim Course dates highlighted in yellow.
↓ September 2022 onwards ↓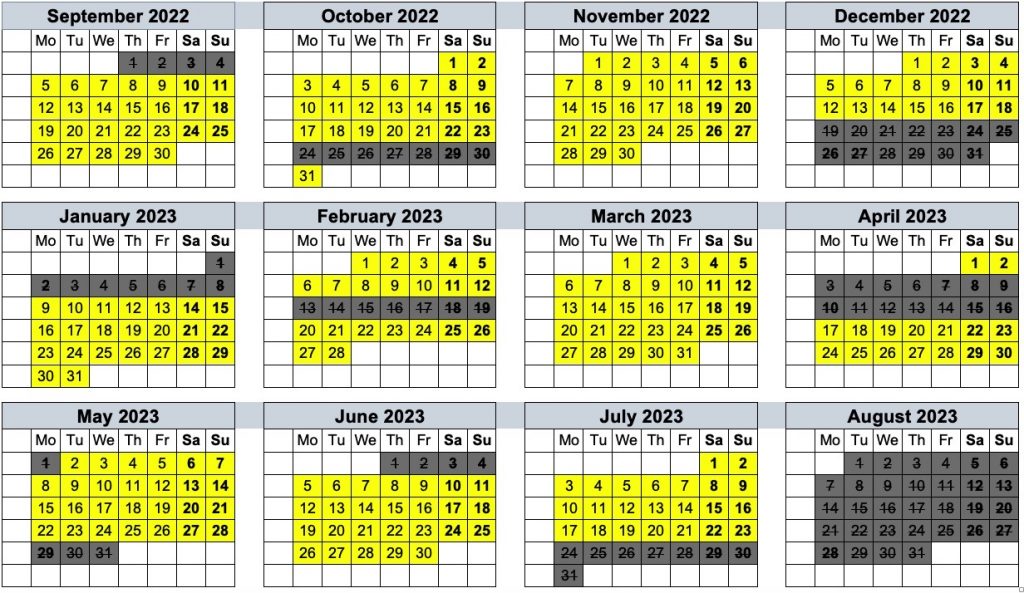 ---
Account Details:
Sort Code:  30-10-75   Account:  00021133
Our Admin Office Hours are Monday – Friday 10.00am – 2.00pm we are teaching at all other times 
Call to Book:

 07930 139 634